We want to make sure that your Nesto flat lives up to your expectations. It will be heated directly from the floor, evenly and reliably to keep you comfortably warm. All flats will be fitted with state-of-the-art electric infrared heating foils, to make sure energy is used efficiently. But there is much more to this type of underfloor heating than meets the eye.
Let's begin from the floor up. That's where the heat in your new flat will come from. There will be no radiators to spoil the aesthetics of your dream interior. What's more, conventional radiators transfer heat by convection using the flow of air, causing dust particles to swirl around in the air. Underfloor heating, on the other hand, heats the room by radiation. By transferring energy over a large area, the heating foils heat the floor efficiently and evenly throughout the entire flat. A big advantage of the heating mats is their short start-up time. The underfloor heating foils first warm up the air by radiation and then reliably heat up the whole room, creating a feeling of warmth in a much shorter time.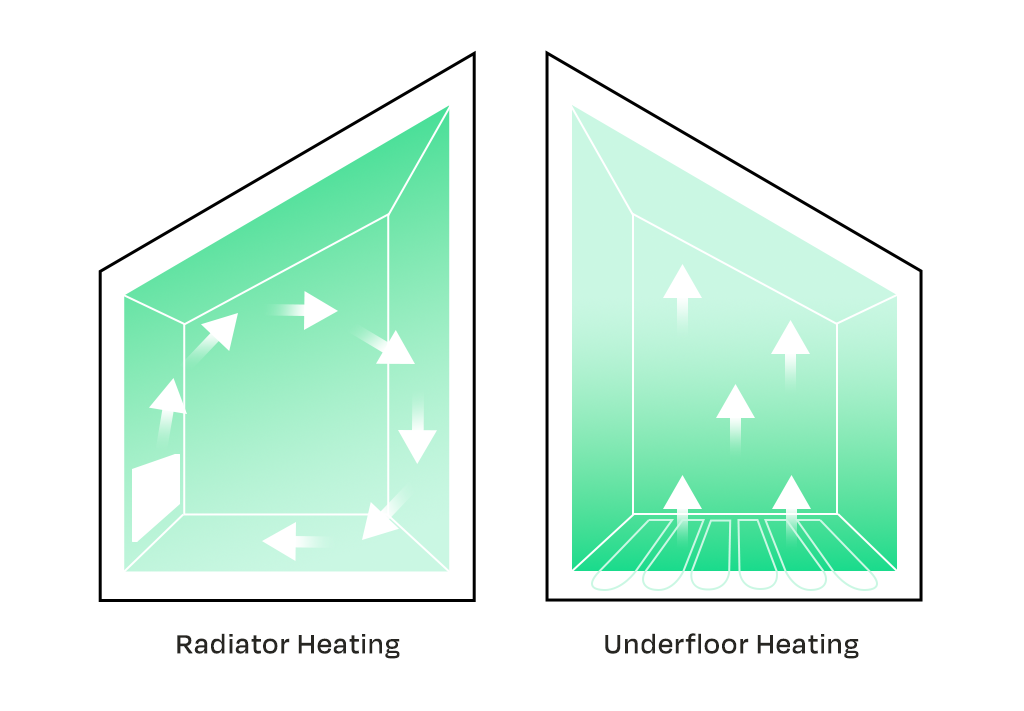 Less humidity with less maintenance
The underfloor heating foils will be laid out in multiple circuits throughout the flat, controlled separately for each room by thermostats. A mobile app adjusts the temperature in individual living areas as needed. The app allows you to set automatic switching on of the heating system in the morning and when you come back from work, and a lower setting during the day when no-one is at home. Another advantage is that the underfloor heating system is "invisible" and requires almost no maintenance. The underfloor heating is also a good choice for your health. You won't get cold feet and won't need to worry about dust swirling in the air, which is especially good for people with allergies. Underfloor heating also reduces the level of humidity in the room, giving mites no chance to survive and multiply in carpets. Direct underfloor heating is also an important factor in preventing arthritis. Modern underfloor heating will bring warmth to your home in the most modern neighbourhood in Petržalka.
The benefits of underfloor heating:
does not spoil the look of the interior, improves thermal comfort
reduces humidity in the living space
benefits people with allergies
optimal heat distribution in the room
no airflow means no airborne dust deposits on wall surfaces and heating elements
low maintenance
maximum clean operation