Our new Nesto neighbourhood will look good even from a pram. It has been carefully designed for living and growing up in from early childhood. Families looking for more space for their children will find the perfect place to live here. There will be car-free zones, outdoor playgrounds, green alleys and parks to walk prams in, a multifunctional square, and a kindergarten in the future and ideal facilities and services, making Nesto a neighbourhood where families will want to stay for life. Our neighbourhood will grow and evolve with you. 
Meet Greta, a little baby girl who has just been born in Nesto. If she could talk, she would surely praise the alley lined with trees we planted on the outskirts of Nesto even before we started building Petržalka's newest neighbourhood. Sleeping in a pram in the shade of trees and in car-free zones is something all babies really love. The parks abundant in greenery will create open spaces where her parents and grandparents will enjoy strolling. Therefore, preserving the existing greenery is our topmost priority at Nesto. Moreover, excellent access to public transport will make it easy to take little Greta wherever she needs to go.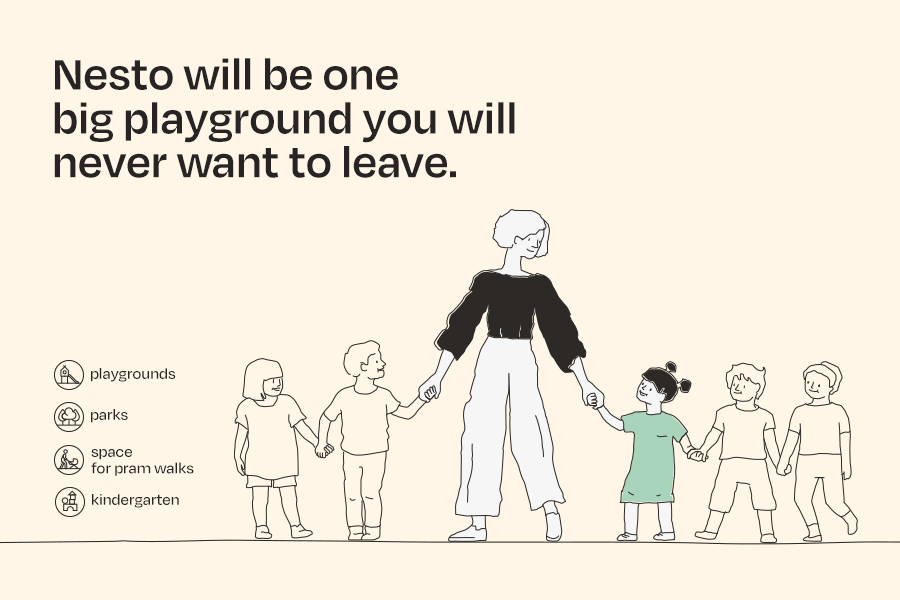 Good neighbourhood = happy children 
All public spaces in Nesto are designed to make exploring the world fun for its smallest residents. Once she gets bored in her pram, our little Greta will be able to run to playgrounds that will not only entertain the little ones, but also keep them safe. We believe that a good neighbourhood is one where children are happy. When our "Nesto-baby" gets a little bigger, she will fully enjoy all the benefits of outdoor playing spaces, green spaces, and walks in the park. With a vibrant and thriving community of young people and families, she will find friends of all ages. Our plans for the northern part of the new neighbourhood include a kindergarten that will be within walking distance for all residents. Nesto will be one big playground from which Greta will not want to go home. The ingenious connection to the cycling infrastructure will come in handy when the youngest Nesto residents learn to ride a bike and start to explore Petržalka and the nearby city centre.  
20-minute neighbourhood = everything at hand
As an experienced real estate developer, Lucron also measures the quality of a neighbourhood for its residents. We see this in our completed residential projects, which have already taken on a life of their own. Little Greta's parents will appreciate the public amenities, services and business establishments that are part of our plans for Nesto. We call it a 20-minute neighbourhood, where everything is at hand. People who also plan to do business or work in Nesto will find an ideal environment here. Our Greta will enjoy the educational and sports facilities as she grows older. A multifunctional square with water elements and a vivid parterre is something she will enjoy with her parents. The square will be a community place to spend time with neighbours and make friends for a lifetime.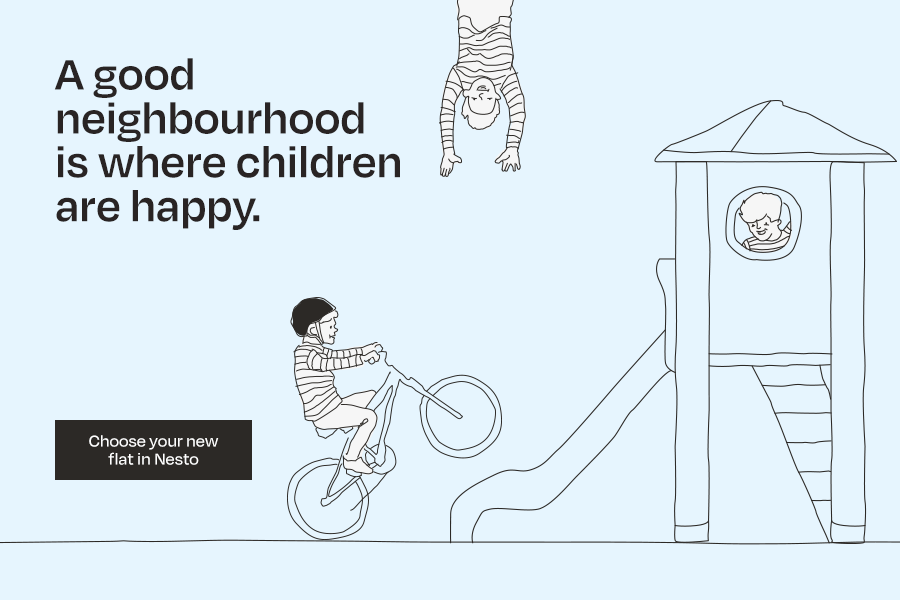 Ideal flats for young families
Nesto is successfully growing up. More than half of the 164 above-standard flats in residential buildings C1, C2 and C3 are already sold. We are happy that many of our clients are families with children who see their living in Nesto as a long-term stage in their family life. Our wide range of residential units includes sophisticated single-room flats up to spacious four-room flats for families that need more space as they grow. The larger ones provide sufficient storage spaces and generous solutions for fitted wardrobes, as well as separated night and day zones. Some of the two-room flats come with walk-in wardrobes as a bonus. All flats are fitted with underfloor heating and high-quality triple-glazed windows. Residential units with terraces and front gardens are also still available for sale. We believe that Nesto will be more than just a temporary address for young families and children and that spending their whole life in Nesto will make sense to them. That's why Nesto is exactly where it should be, and a great advantage is that we are building it as a green-field project. Everyone will fall in love with Petržalka's newest and most modern neighbourhood from their early childhood. Just like our little Greta.
All information about Nesto and available flats can be found here.